How to change the default browser in iOS 14. With the arrival of iOS 14, Apple wanted to open up a little more to third-party applications. One of the demands that Apple was being asked to be able to change the default browser to open a link. Now this can be done in a very simple way from iOS 14 and in this article we explain how to do it.
Advantages of changing the default browser on iOS 14
Until now, Apple always forced you to use Safari to open all the links that were sent to you by email or a messaging service. Obviously this does not satisfy many people who use other fully valid options in iOS such as Chrome or Firefox in their day-to-day lives. It is not understandable that Apple forces to always use its native browser even if the user does not want to. This caused many people to begin to criticize the company for being totally hermetic in this regard without allowing customization of the default applications.
This has now changed as of iOS 14, allowing you to choose the application you want to use by default to browse the internet. No longer will you have to copy a link and paste it into your favorite browser to prevent Safari from opening. From now on you can open it in your favorite browser by default, and this also applies to email or many other services.
Change default browser on iPhone
The process to change the browser is relatively straightforward. For these steps to take effect, iPhone must be installed on iOS 14 or higher. Additionally, you must have downloaded the browser you want to change, like Chrome, Edge, Firefox, or the cool infinity you will find right now in the App Store.
In order to apply these changes you simply have to follow the following steps:
Go into Settings.
Scroll to the bottom of the page and find that navigation app you want to use by default.
Enter your options.
Click on the 'Default browser app' section.
Choose from the list that appears the application with which you want all the links to open.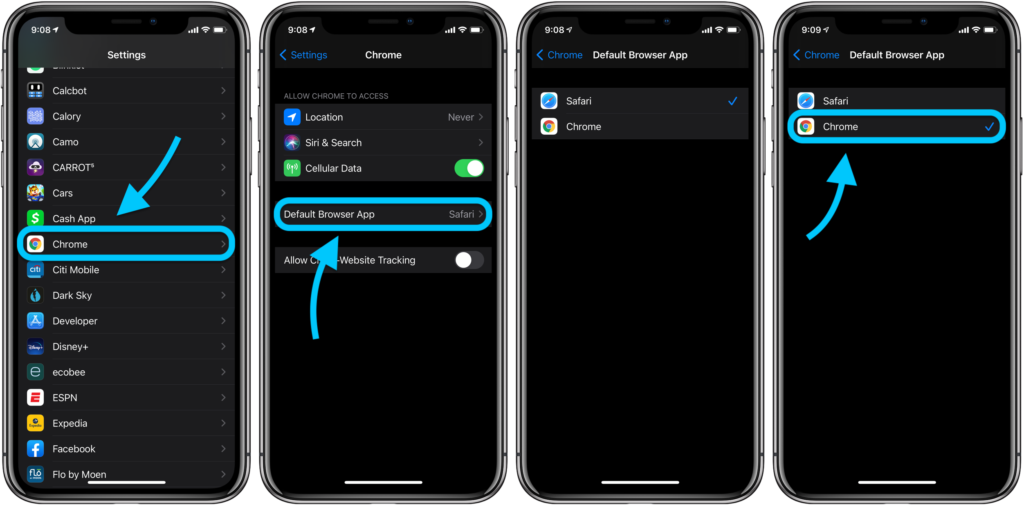 From this moment on, you can completely forget about Safari to be able to use your favorite browser by default. In these cases, you can go so far as to eliminate the Safari app itself. So in no case will it stay on your homepage, so it doesn't bother you visually. Obviously, you can revert to using Safari by default by following these same steps or choosing a different browser. In the end, what Apple is trying to do is to give the operating system a lot more personality so that users feel as comfortable as possible. We must not forget that everyone does not have a Mac so they can instantly sync bookmarks and they prefer other browsers because they have different operating systems, Chrome is one of the most common, so this is a decision to be grateful for. . From Apple.